What does an Auto Dialer Software do?
The open source auto dialer software is an automatic dialing software, utilized mainly for making calls automatically from the contacts saved within the database. Basically, national and multinational companies demand this software in order to operate their call centers and contact centers.
These open source auto dialer software are designed to perform some essential task that includes the following;
Enabling interaction with the calling party via keypad or voice response.
Leaving automatic voice messages.
Redirecting calls to the first available agent.
The open source auto dialer software can also be considered as a one-stop solution for maintaining the customers for a longer time period. This is possible due to the all-time availability of the contact center representatives. High availability means all customer queries are entertained on a timely basis and it offers quick after-sale services. The result of all this is a great customer satisfaction which is a key factor for any successful business.
Top 5 open source auto dialer software
Here are the 5 top-rated open source auto dialer software available today.
VICIdial – Freeware Auto Dialer Software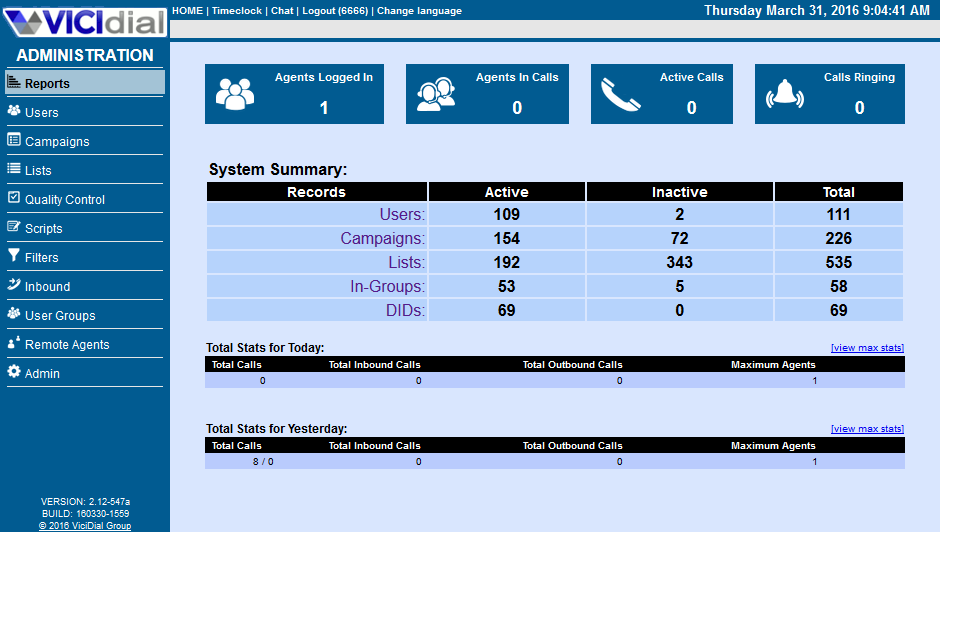 VICIdial is an award-winning complete and fully-focused contact center solution for inbound and outbound calls. It is an open source PBX phone system and a predictive auto dialer software solution. The software is designed to provide the agent, an interface for real-time information with the monitoring functionality.
Furthermore, it offers a separate support admin portal that monitors the status of the campaign. As per the consumer's, it is a highly-effective open source auto dialer software and the prime choice of millions.
According to the VICIdial official website, their software is being used by more than 14000 companies around the world.
VICIdial Tutorial
OSDial
OSDial is a free of cost auto dialer software, used at the call centers. In the past, the people behind OSDial were working at VICIDial. In 2009 they launched their own open source auto dialer software named as OSDial.
OSDial is equipped with powerful features that include a recently overhauled user interface (UI) that trim down the visual clutter in order to secure the time and the level of frustration of the agents. By offering pre-configured phones, this auto dialer software helps the agents to take calls right away. OSDial also offers a unique feature called as hosted dialing. This feature enables OSDial to be offered as a service over a network. However, this is not a free feature.
OSDial has many other useful modules like multi-tenant and accounting module. Apart from these features, OSDial has a very fast and reliable Support team.
In addition, this open source auto dialer software also helps the agents in receiving ranking by having it equipped with voicemail boxes. The software also features pre-selection of inbound calls that are then headed towards different agents. Furthermore, the paid features of this software include separate interfaces and advanced reporting for companies.
OSDial VS VICIdial: Which is the best?
According to a recent survey, a majority gives preference to VICIdial.
The reason behind this popularity is the number of features VICIdial is offering. Also, they have a very fast support service available 24 x 7 hours. Their developers are always ready to integrate VICIdial with other content management systems. Which makes it a number one choice for businesses to choose among other open source dialer software.
Though OSdial team is also improving their feature set with every new release still they need a lot more to do.
Newfies-Dialer
Newfies-Dialer is among the top-five open source auto dialer software. Newfies-Dialer is equipped with a powerful voice and SMS messaging software solution. It is based on Freeswitch Telephony Engine and includes IVR (interactive voice response) technology.
Newfies-Dialer further features Call Detail Report (CDR) which can be exported via a CSV file. This auto dialer software also supports the press 1 campaign for the purpose of redirecting calls to the live agents.
Newfies-Dialer has the ability to integrate with third-party applications through its API. Which makes it a preferable choice. A powerful control panel makes it more easy to manage phone campaigns.
GOautodial
GOautodial is a web-based open source auto dialer software available under GPLv2. GOautodial is equipped with GOadmin (administrative setup and control), GOagent and GOreports (report builder) exclusive features. It holds the capability to handle inbound, outbound and automatic phone calls. It also holds the ability to provide call recording function in compliance with the laws of the countries including Canada, UK, and the US.
GOautodial is further equipped with an inbuilt support for Sangoma and Digium PC cards for the purpose of carrying out a survey for dialing capability.
ICTDialer
ICTDialer is an open source auto dialer software, targeted mainly to the telemarketing businesses due to the unified communication features it carries. It features multi-tenant SMS, voice and Fax broadcasting that helps the agents and administrators in making and taking thousands of calls at a time.
ICTDialer lays its foundation on ICTcore which is a powerful communication framework and is built on two of the content management systems, namely Drupal and FreeSWITCH. In addition, this software supports FoIP, VoIP, and PSTN in order to offer flexible termination of the calls. The IVR designer of this software offers advanced options for the users such as, allows advanced telephony system with drag and drop interface.
Conclusion
Making the choice among top five open source auto dialer software is a bit stressing task. The key is to compare the features of the software with the needs of your business. When the comparison between GOautodial and OSdial open source software takes place, Goautodial is said to have a more lively and active support forum.
Since not every software comes with an IVR technology (interactive voice response- a human-sounding machine which asks the caller who he is and what he want prior to having a conversation with the agent).  This feature is also a key factor while selecting the auto dialer software.
Thinking that I have missed out any top-rated open source auto dialer software?. Which one did you choose for your business?. Feel free to share with us in the comment box below.